Entry Details
---
Entry Fees
$50 per player.
$45 per player for 2 or more members of same family entered. ($5 discount per player)
$20 Annual NZCF player registration fee (if not yet paid).
No entries accepted after 9am 20th October 2018 or when full.
Only first 50 fully paid player entries accepted due to space constraints.
Club account for payment:12-3011-0713528-00 (state name & "MervM").
Results
---
Prizewinners
Open
1st=: FM Alexei Kulashko, FM Ben Hague.
3rd: CM John Duneas.
under2100
1st=: CM Alphaeus Ang, CM Helen Milligan, David Weegenaar, Daniel Runcan, Laurens Goormachtigh, Richard Dare.
under1800
1st=: Roy Seabrook (trophy winner), Simon Lyall, Timothy Ha, Philli Park-Tamati, Andrew Li, WCM Nadia Braganza, Jeffrey Yu, Grant Burrows, William Crombie.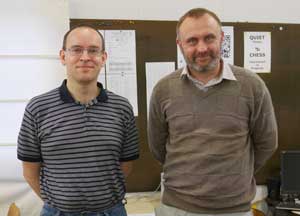 1st= FM Ben Hague, FM Alexei Kulashko
under1800 Roy Seabrook, Merv Morrison Trophy winner